Holden Colorado Upgrades – 2.8
The 2.8L Duramax engine in the Holden Colorado is a nice platform to start with, with basic upgrades like an exhaust and remap can produce close to 500nm of torque at the wheel which makes it quite a capable tow vehicle
Find Out More About…
Package 1 (download the packages PDF here)
Package 1 for the Holden Colorado includes a stainless exhaust system and a custom ECU remap, this package is your base entry into carrying out upgrades on the 2.8 platform, this package is best suited for day to day driving and towing.
Package 2 (download the packages PDF here)
Package 2 is designed to replace the factory injectors nozzle which are the limiting factory when tuning the 2.8 engine is standard form, the factory fitted turbo can handle sizeable increases in boost while retaining high reliability.
Package 3 (download the packages PDF here)
Package 3 for the Holden Colorado has the torque and hp of some of its big V8 counterparts, when producing over 240hp & 700nm the little 2.8 engine is capable of getting you out of any tricky situation. With a G260 turbo and options to replace intercooler and airboxes this package can be designed to suit your needs and application
A custom ECU remap on the 2.8 platform can achieve nice gains in torque with a simple exhaust and remap on average should see around 40-50% gains in torque, more torque can be achieved by upgrading to a custom package which could include upgraded turbos, Injectors, Intercooler and much more.
Factory figures
330nm & 145hp at the wheels
Remap figures
500nm & 185hp at the wheels (on average based on Package 1)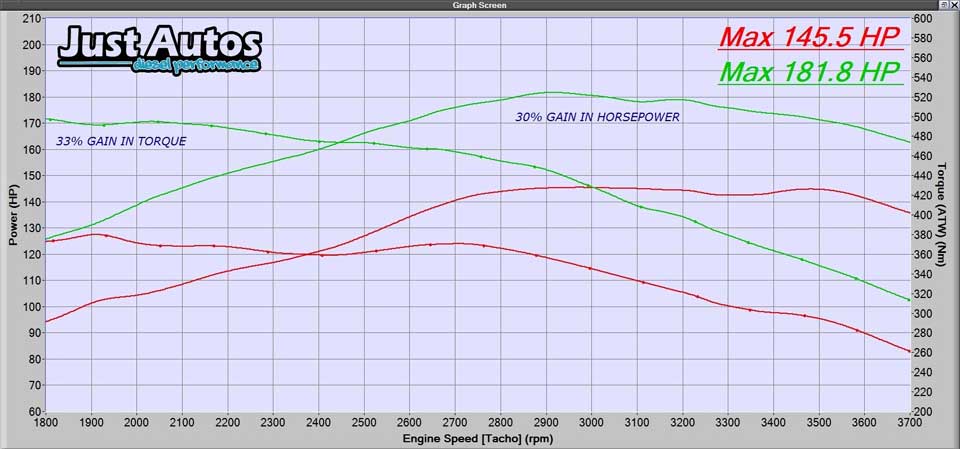 Turbo Upgrades
The 2.8 engine can make substantial gains in torque and power when upgrading with supporting mods. G Turbo has a range of turbos suited for every application and desired outcome.
Exhaust Upgrades
The 2.8L engine from Duramax is fitted with a restrictive exhaust from factory so when carrying out a custom ECU remap a 3" exhaust from Just Autos can help improve the efficiency and note of your vehicle. All exhausts come fitted with a high flow muffler and Catalytic converter
Intercooler upgrades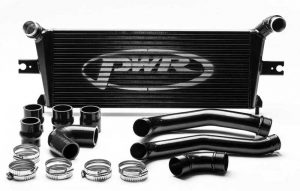 The 2.8L Colorado and & Everest come factory fitted with a front mounts intercooler and can be utilised in standard and tuned form, however we recommend upgrading to a larger front mount intercooler when upgrading to larger injectors & turbos.
Injector Upgrades
30% injectors can be custom built in house to achieve the fuelling required when upgrading the vehicle to your desired outcome. Most models will require 30% injectors when upgrading the vehicle factory fitted turbo.
Transmission upgrades
The Automatic transmission in the 2.8 Colorado can be adjusted and tuned accordingly through the vehicles factory ECU to change shift pressures, shifting patterns and even convertor lock up to desired outcome.
Clutch Upgrades
The clutch fitted from factory on the 2.8 can handle quite a bit of torque for a factory clutch however the dual mass flywheel is known to be a weak point, for any upgrades over 200hp we recommend replacing clutch and converting to a single mass flywheel and heavy duty clutch.