Mazda BT50 3.2 is one of the most popular vehicles currently in the market with a high factory torque compared to other models and a high degree of comfort. However, there is always room for improvement with packages designed for a smooth linear gain in torque to packages capable of rivalling the some of its big competitors.
Find Out More About…
Package options
With packages ranging from mild to wild we have all aspects of your BT50 covered, with custom remaps & exhausts to full packages including turbo upgrades, larger injectors, intakes & air boxes to achieve as much torque and power as we can safely & reliably.
Package 1
Package 1 comes with a full 3" exhaust & custom ECU remap and average torque gains of 30%, torque curves in the 3.2 BT50 are fairly aggressive from factory but with some time spent on the dyno we can achieve a nice linear & smooth torque gain which makes for a nice driving experience and good reliability
Package 2
Package 2 is designed to replace the factory turbo on BT50 which is the first weak link in the 3.2 engine. With G250 & G300 upgraded turbos depending on desired result and end goal for your BT50. With average gains over package 1 of roughly 20%
Package 3
Package 3 is your all out package for your 3.2 BT50 with proven results which can make up to and over 250 hp and 800nm, With an intercooler upgrade and Injectors upgrade over package 2 to achieve desired fueling and the intercooler their to help keep intake temperatures down which means your power stays there for longer
Factory figures
380nm & 145hp at the wheels (on average based on a stock standard BT50)
Remap figures
480nm & 175hp at the wheels (on average based on Package 1)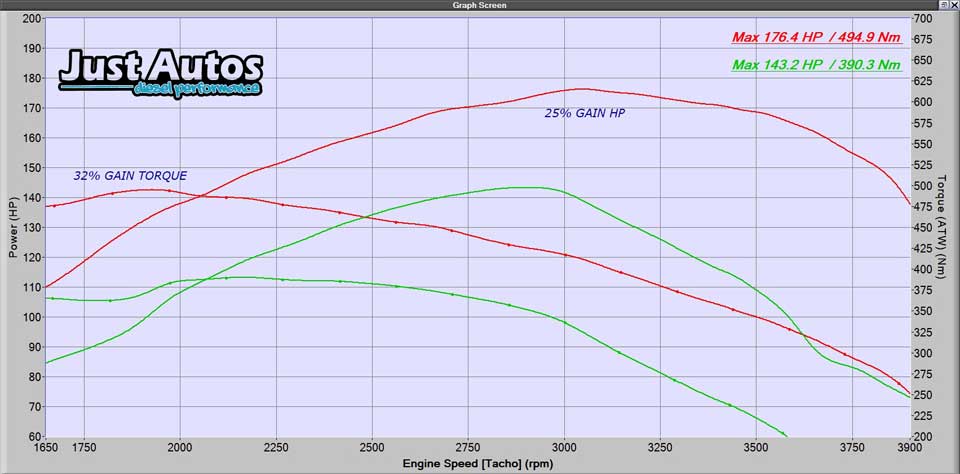 Exhaust
Replacing the standard BT50 exhaust system with a 3" Just Autos Performance Exhaust, It increases torque, power and economy, by achieving a higher flow which means a less restrictive exhaust system, full mandrel bends, a high-flow catalytic converter, and a straight through muffler. The Just Autos exhaust reduces the temperature of the exhaust gasses, allowing the turbo and engine to operate cooler. All exhausts come with multiple options for catalytic converters and straight through mufflers to achieve your desired exhaust note.
Turbo
G Turbo can supply us with a factory bolt on location turbo capable of producing high amounts of torque and power while also retaining factory reliability, while having multiple turbo options depending on individual application and customer needs. If you have any queries regarding your turbo upgrade for your BT50 we would recommend ringing one of our highly qualified staff member to help guide you through what's best for your BT50
Injectors
A custom built set of 30% high flow injectors can support the desired amount of fuel when upgrading turbos on your BT50
Reviews