Nissan Patrol Upgrades – 3.0
The ZD30 engine is capable of being quite a reliable engine when upgrading correctly contrary to popular belief. With options to custom ECU remap the 3.0 common rail engine while upgrading the factory turbo actuator to help with reliability.
Remap
A custom ECU remap on the 3.0 platform can achieve nice gains in torque and will see on average should see around 40-50% gains in torque, all remaps are custom tuned on the dyno with all results for before and after
Factory figures
220nm & 80-90hp at the wheels (on average based on a stock standard auto Nissan Patrol)
Remap Figures (with boost actuator & 3" exhaust)
380nm & 135hp at the wheels (on average based on Package 1&2)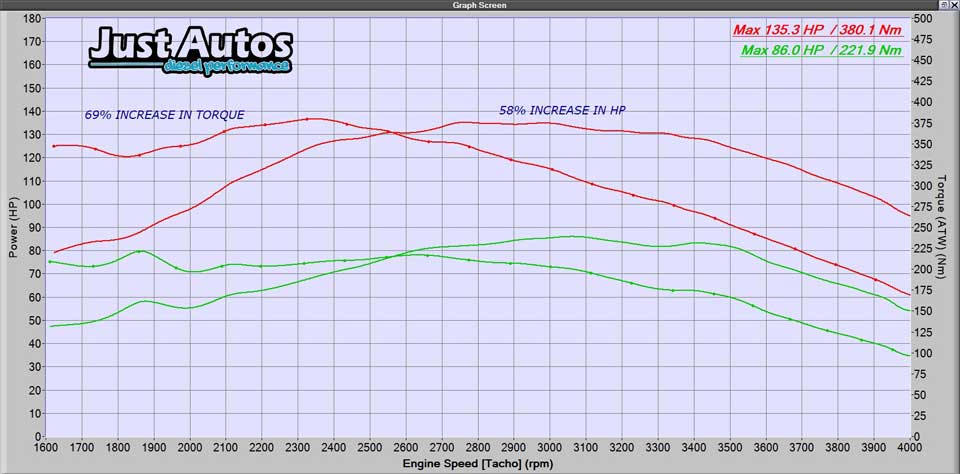 Package 1 (download the packages PDF here)
Package 1 for the Nissan patrol 3.0 utilises the factory boost controller and carrying out a custom ECU remap
Package 2 (download the packages PDF here)
Package 2 for the Nissan patrol comes with a custom ECU remap and replaced the factory boost control solenoid with a boost actuator on the vehicle's factory fitted turbo, boost actuators can achieve a more precise boost control over factory fitted vacuum actuator
Package 3 (download the packages PDF here)
Package 3 for the Nissan Patrol comes with a full stainless 3" exhaust system, ECU remap and boost actuator.
Exhaust
3" stainless exhausts are available for the Nissan Patrol 3.0 with different variations for desired exhaust note
Boost Actuator
The factory fitted actuator on the Nissan Patrol is known to cause a few issues with not only boost response but boost control, replacing the actuator with a boost actuator from turbosmart will give a more accurate boost control and help with improving boost response.
Turbos, Injectors, Intercooler
Depending on your desired results Just Autos has a range of upgraded turbos, Injectors and intercooler to suit your desired outcome