With 145hp at the wheels and 350nm of torque, the 70 series in standard form isn't much better than your basic 4wds on the market. With a Just Autos custom developed package, we can dramatically change those results into something you can be happy with driving, with packages ranging from 600-650nm of torque and 210hp to 1000nm of torque and 300-350hp we are sure we can find a package suited for your needs
Find Out More About…
Package options
With packages ranging from mild to wild we have all aspects of the 70 series covered, with custom remaps & exhausts to full packages including turbo upgrades, larger injectors, intakes & air boxes to achieve as much torque and power as we can safely & reliably.
Package 1 (download the packages PDF here)
Package 1 for the 70 series Landcruiser (Pre DPF or DPF) is suited for a wide variety of applications with a full 3'' or 4'' exhaust upgrade an NPC 1300nm clutch and Just Autos custom ECU remap with average going of 80% torque which equates to roughly around 600-650nm at the wheel and 200+ hp, whether your playing in the sand up the beach, towing a work trailer, towing the weekend caravan with over 600nm of torque
Package 2 (download the packages PDF here)
Package 2 for the 70 series is best suited for towing quite a heavy load, maybe a little more than what its designed to pull. With a G Turbo (G250-G300) upgrade to get that torque increase across the RPM band and the PDi intercooler upgrade to make sure we keep the power there when its needed to most. If your chasing more than package 1 but don't want to go all out this package will be well suited for a wide array of application and situations. With torque and efficiency in mind when building this package and with a high grade of reliability "touring" with this package will be no problem at all
Package 3 (download the packages PDF here)
Package 3 is for when a little is not enough, Package 3 for the 70 series is aimed at customers who have a passion for power and torque and are always constantly chasing more power. With output figures reaching over 350hp & 1000nm there is no shortage of torque and power, Using a G350 G Turbo and coupling it with a G Turbo power pipe, 4" exhaust and front mount intercooler while all still having a custom ECU remap done in house at Just Autos the vehicle will still retain a high amount of reliability and drivability even with such a massive increase in torque and massive change in factory equipment
Ecu remap on the 79 series Landcruiser can achieve very noticeable gains just by itself but when coupled with one of our custom packages can improve, performance (Torque and HP), drive ability, efficiency and in some cases fuel economy.
Factory figures
325nm & 145hp at the wheels (on average based on a stock standard 70 series)
Remap figures
650nm & 210hp at the wheels (on average based on Package 1)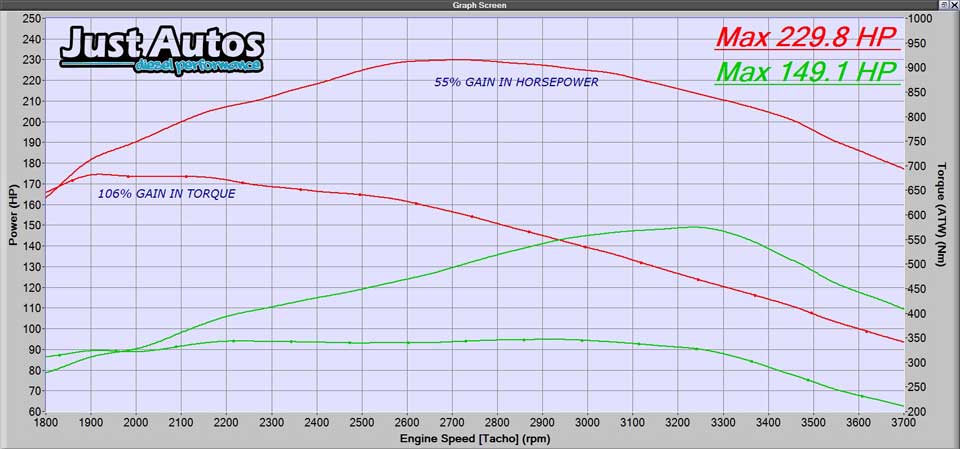 Exhaust
70 Series Landcruiser has a few options for exhaust sizes and configurations depending on desired note & performance gain. 3" exhaust & 4" exhaust options both come in stainless steel with options for high flow catalytic convertors and high flow muffler assemblies
Airbox
The factory airbox assembly on the 70 series Landcruiser can support power on average of around 270hp, when upgrading turbos on the 70 series platform we recommend replacing with a larger aftermarket airbox assembly to achieve better air flow through the factory intake system when coupling with an intake pipe.
Intercoolers & Fan kits
Front mount intercooler for the 70 series Landcruiser are available for installation at Just Autos, the factory top mount intercooler will suffer from heat soak as the heat from the engine rises into the factory intercooler which in turn raises intake temperatures and you start to lose efficiency and torque. Fitting a front mount intercooler will not only improve flow and efficiency but will keep intake temperatures down for a lot longer due to the positioning of the new intercooler receiving the added airflow from the front of the vehicle.
Upgraded Injectors
30% injectors can be custom built in house to achieve the fueling required when upgrading the vehicle to your desired outcome. Most models will require 30% injectors when upgrading the vehicle factory fitted turbo.
Upgraded turbos & Intake pipes
Just Autos has a large range of factory bolt on upgraded turbos from G Turbo which are capable of increasing the vehicle factory torque and horsepower. This specification targets solid bottom and mid power, with the grunt that every big V8 should have. The upgraded assemblies have higher flow, high-efficiency compressor wheels, custom turbines, custom VNT systems and custom bearings for high boost.
Reviews