Minimise Engine Temperatures and Maintain Peak Power and Torque Outputs with Our 300 Series Heat Exchanger Upgrade!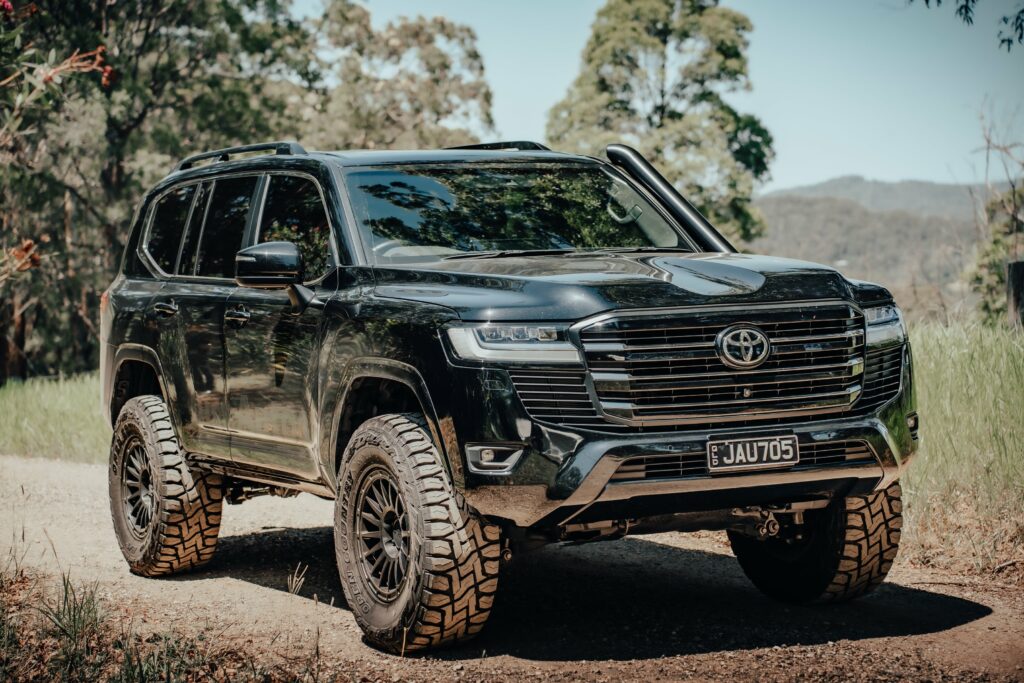 Why You Need a Heat Exchanger Upgrade
The factory-standard intercooler and cooling systems of the Toyota 300 Series Land Cruiser are adequate, but in demanding circumstances, the engine reaches high temperatures that force the factory ECU to under-fuel the engine in an effort to protect itself, resulting in reduced power and torque at the wheels – which makes for poor towing and sluggish responsiveness from your FJA300. What's more, the existing intercoolers on the 300 Series are quite small, making them prone to heat soak.
Our heat exchanger upgrade is the perfect solution to this issue, factoring in seamlessly with the existing cooling components, providing additional water-to-air cooling capabilities and drastically increasing the existing components' cooling capacity. 
Just Autos' heat exchanger can complement any performance package and enhance the impact of diesel performance tuning!
Transform your towing experience and make hitching on the family caravan effortless for your 300 Series with our heat exchanger upgrade!
Our latest FJA300 upgrade offer is ideal for Land Cruiser owners concerned about engine temperatures while towing, driving with a load, or placing the engine under strain for long periods of time. 
Our heat exchanger will keep your engine running cool, no matter the terrain.
A hot engine is an unhappy one, and exposing your 300 Series engine to intense heat for an extended period of time can wreak havoc on both your performance and your engine's integrity.
Our heat exchanger upgrade helps regulate engine temperatures for stable intake, intercooler and coolant temps, resulting in a more efficient drive and ensuring you don't experience any loss in power when you need it the most. 
Our heat exchanger upgrade integrates seamlessly with factory-standard F33a-FTV engines and with 300's that have already undergone some level of performance enhancement. 
Double the difference you see from your engine by coupling this upgrade with performance-enhancing components like our transmission lock-up kit or ECU remapping to get more out of your Land Cruiser.
Toyota FJA300 Heat Exchanger Upgrade
54% Reduction in Temperature
Our in-house dyno tuning equipment allowed us to test, for ourselves, the effectiveness of our FJA300 heat exchanger upgrade. We ran a 90-second simulation that showed how the factory cooling systems worked in challenging driving environments; towing a load, up a hill, on a hot day!
We ran the same simulation with our heat exchanger upgrade installed in Just Autos' own 300 Series, and the data doesn't lie: we saw a 54% reduction in intake temperatures and stable torque output figures.
Experience this superior cooling solution for yourself and get in touch with our team to find out more about our latest upgrade for the FJA300!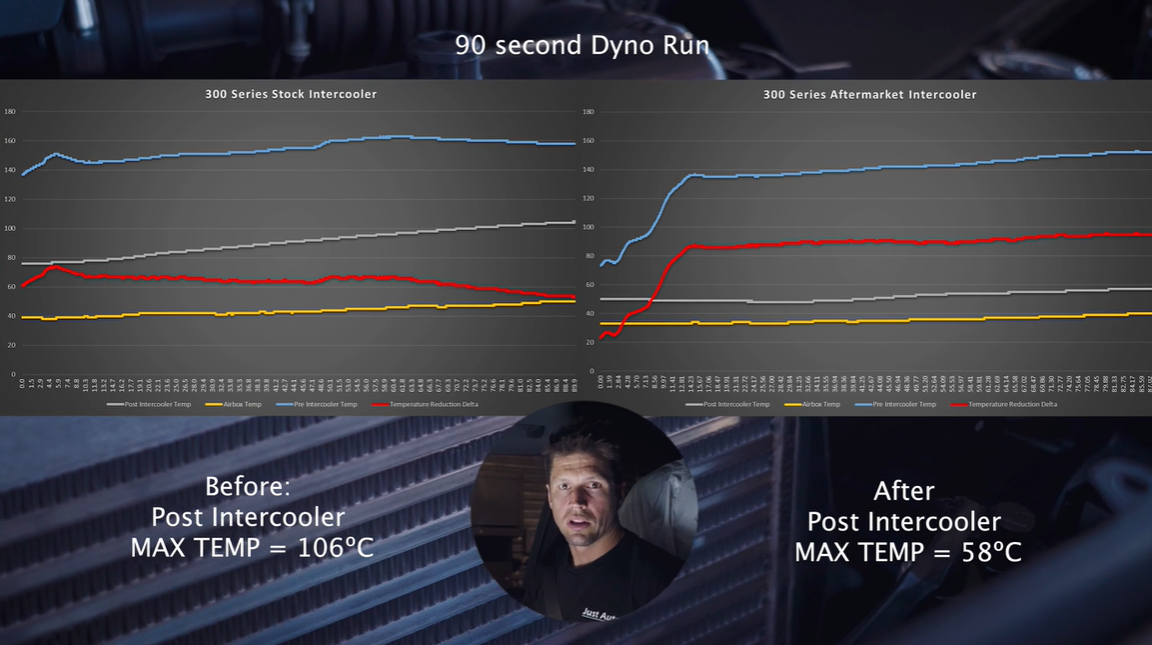 Protect Your Engine,
Without Sacrificing Power
Our FJA300 heat exchanger upgrade has been designed to work seamlessly with the existing water-to-air cooling systems that come stock standard with the 300 Series Land Cruiser. Installed in front of your 300's condenser, our upgrade component provides a massive increase in cooling capabilities that compensate for the considerable heat soak the factory coolers are prone to experience.
What Our Customers Have to Say
Double Your Performance with
Our 300 Series Upgrade Packages
Couple your new heat exchanger with our range of performance upgrades and experience the true potential your 300 Series Land Cruiser has to offer! Just Autos provides a variety of independent upgrades we developed uniquely for Toyota's new flagship model, including a 4″ performance exhaust system, Just Autos' custom airbox, a 4″ snorkel, and a fuel filter bracket. 
We've combined these upgrades into two fantastic performance packages, designed with the power enthusiast in mind. Backed by our world's-first ECU remapping for the FJA300, our performance package upgrades deliver the best bang-for-buck and powerful outputs from your engine.
Ensure your engine runs cool with our heat exchanger and pair it with one of our performance packages to maximise your Land Cruiser's capabilities today!
FJA300 Series Heat Exchanger Upgrade
Keep Your Engine Running Cool
The 300 Series Land Cruiser is a capable diesel with plenty of power under the hood – but, under strenuous conditions, the factory standard water-to-air cooling systems can see your engine temperatures rising to extreme highs and result in the ECU reducing fuelling to the engine – a purposely designed protective measure, but one that causes a noticeable reduction in power and torque outputs. Just Autos has the solution: a heat exchanger upgrade! 
Our in-house developed heat exchanger provides additional cooling capabilities, added water to all cooling systems, and the ability to drastically reduce intake temperatures in even the most challenging driving environments. 
With a staggering 54% decrease in engine temperatures, our heat exchanger upgrade can keep your FJA300 running cool, ensuring that maximum power and torque outputs are maintained.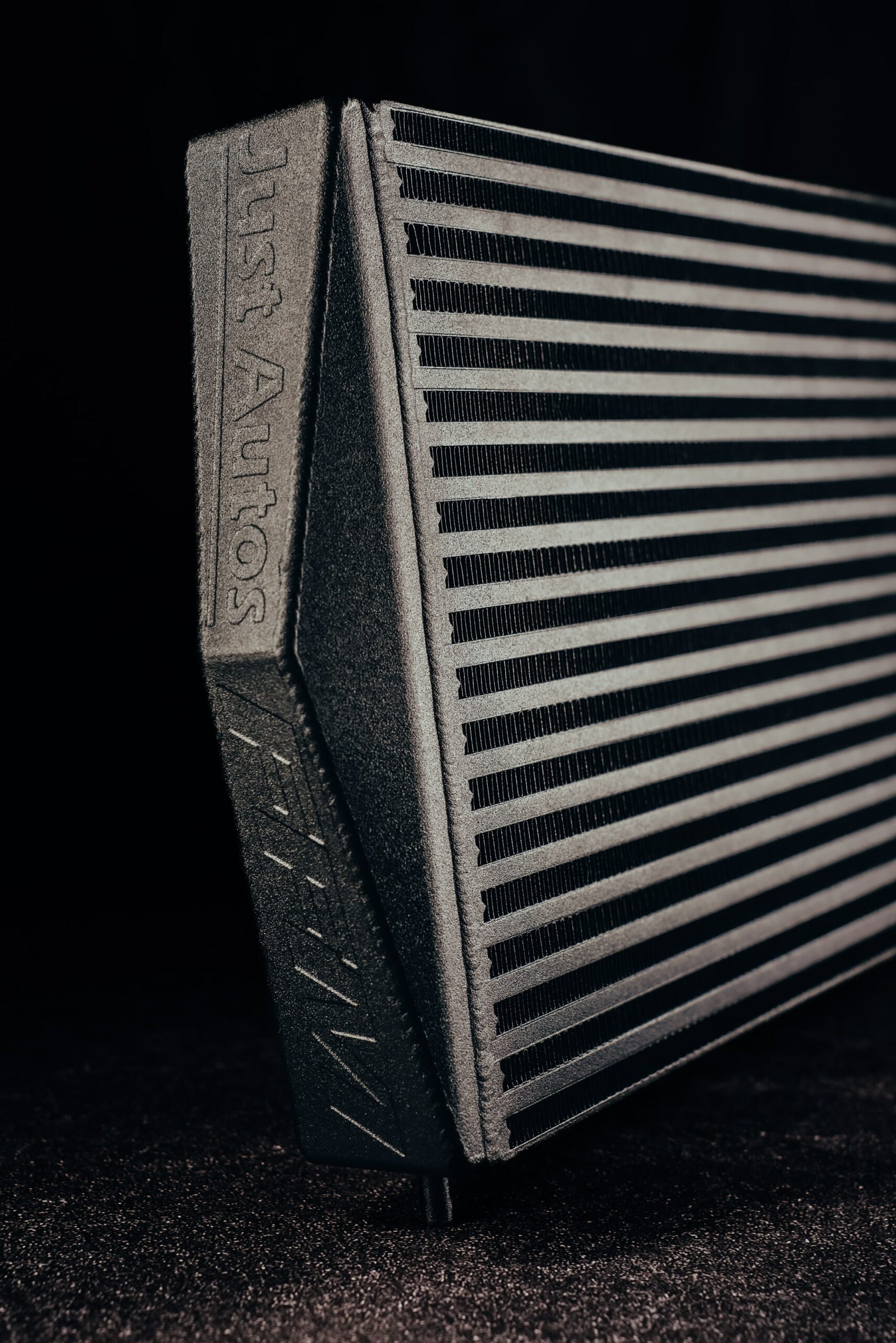 300 Series Land Cruiser Heat Exchanger Upgrade
Get More from Your Land Cruiser
Just Autos is a nationally-known brand renowned for our diesel performance expertise. If you want to achieve more from your FJA300, our in-house master tuners and diesel performance experts have the solutions for you. 
Pre-order your heat exchanger upgrade today or contact us to find out about other performance enhancements we offer for the 300 Series Land Cruiser.