Take Your Toyota's Performance to New Levels with Just Autos' Custom Diesel Performance Tuning Services & Upgrades.
Toyota Diesel Performance Specialists
Enhance Your Toyota Diesel's Performance
Unleash the true potential under your hood with our custom diesel performance tuning services – tailored specifically for common rail diesel and turbodiesel Toyota engines. As Australia's premier Toyota common rail and turbodiesel tuning experts, Just Autos has everything you need to see improved performance from your diesel, and then some – just visit our workshop on the Sunshine Coast for helpful advice and performance upgrade opportunities that cater to your driving style and requirements, as well as Toyota model and spec.
As Toyota owners ourselves, we know what it's like to feel limited by factory settings and manufacturer specifications. The diesel Toyota engine is renowned for its ruggedness and durability, but we know they're capable of so much more. Book your Hilux, Prado, or Land Cruiser into our workshop and our diesel performance experts will work closely with you to understand your performance needs. 
Innovative Diesel Performance Services
Having invested over $100,000 into hardware, software, research and development, Just Autos continues to provide proven results time and time again when it comes to our diesel performance services in Australia: custom ECU remapping, common rail and turbodiesel tuning, and performance modifications, upgrades and packages.
With a Just Autos custom ECU remap, EGR functions can be switched off in the ECU, which stops abrasive diesel exhaust gas from being recirculated through your motor. We can also switch off several other DTC (diagnostic trouble codes) that may occur when custom modifications have been carried out.
If you have had an HKS installed and tuned by Just Autos, we will compliment it with custom remapping of the ECU to give you the best of both worlds – maximum power and torque from the piggyback, and no nasty EGR impact.
Maximise the capabilities of your Toyota with Just Autos: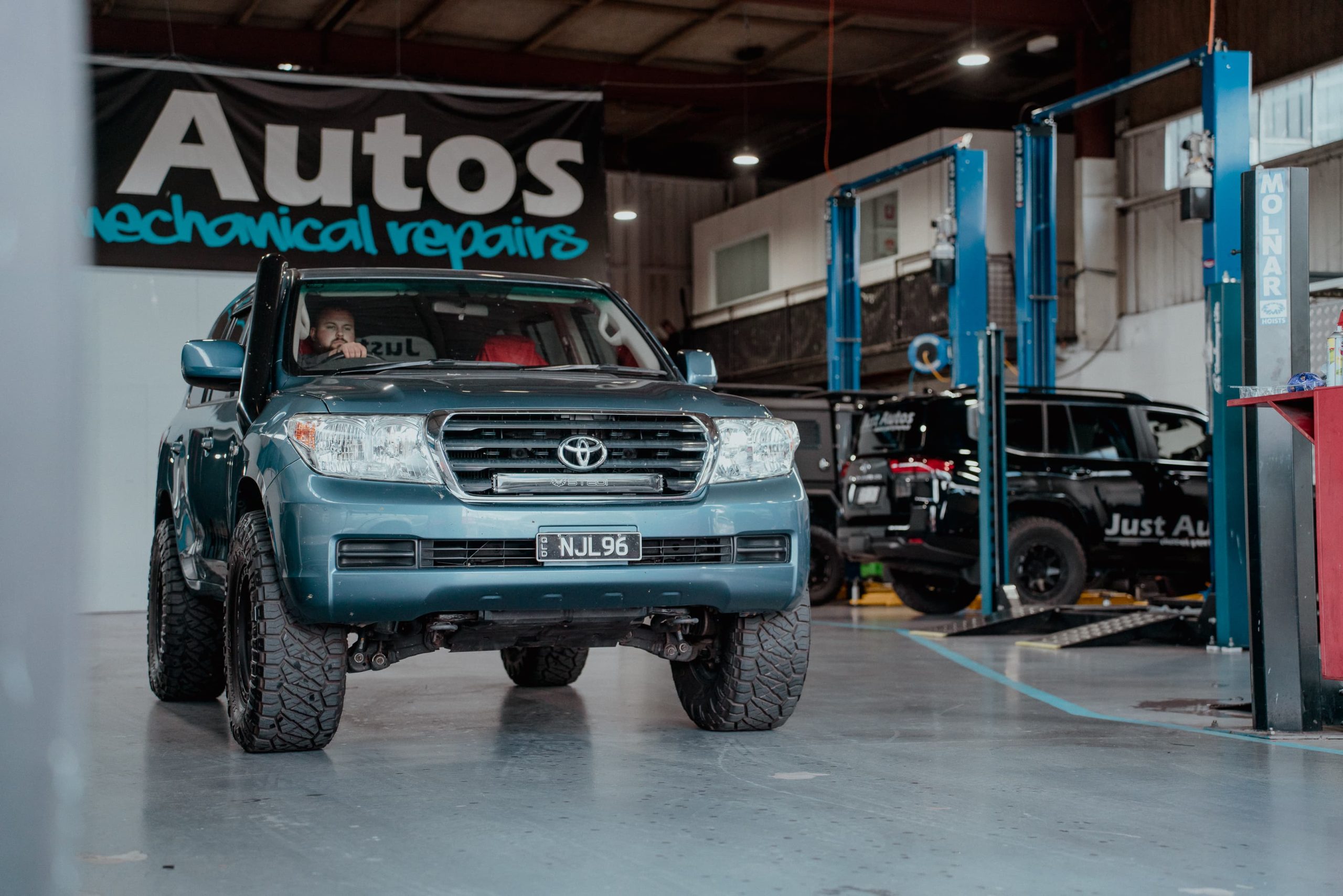 Just Autos Diesel Performance
Your Toyota Diesel Performance Specialists
Unlock the full potential of your Toyota engine with our comprehensive performance tuning services and extensive selection of vehicle upgrades and modifications. Our team of experienced diesel performance technicians have the knowledge and expertise to fine-tune your engine for optimal power, torque and efficiency.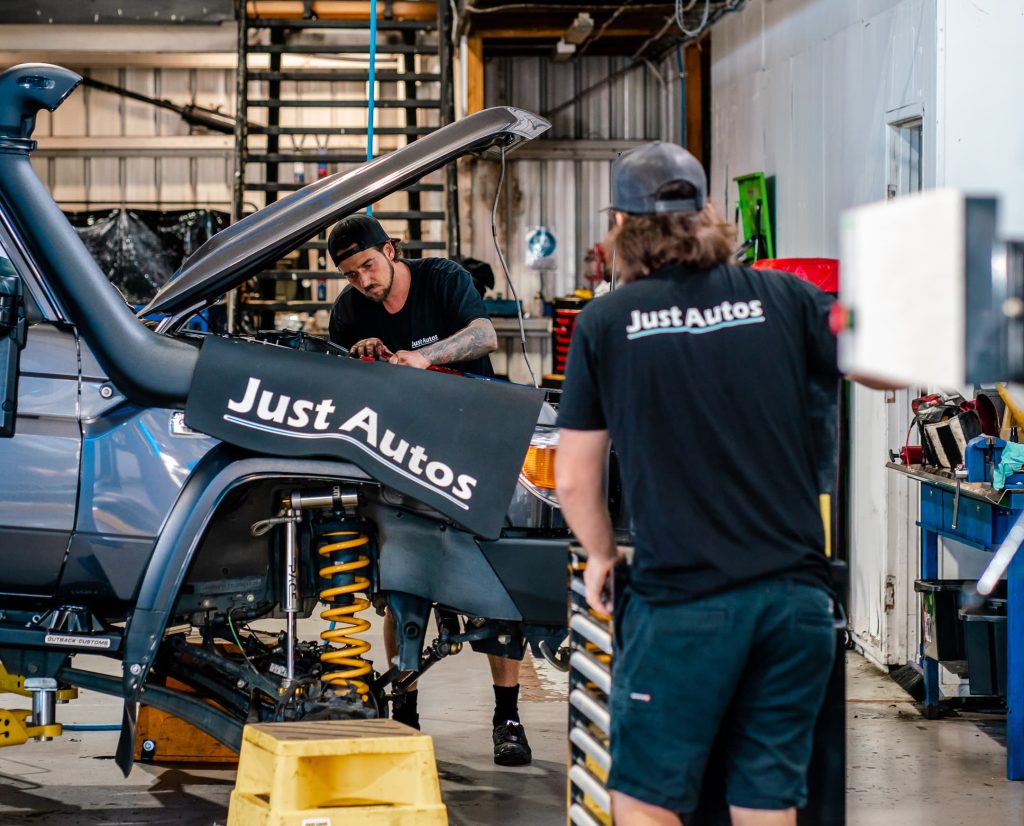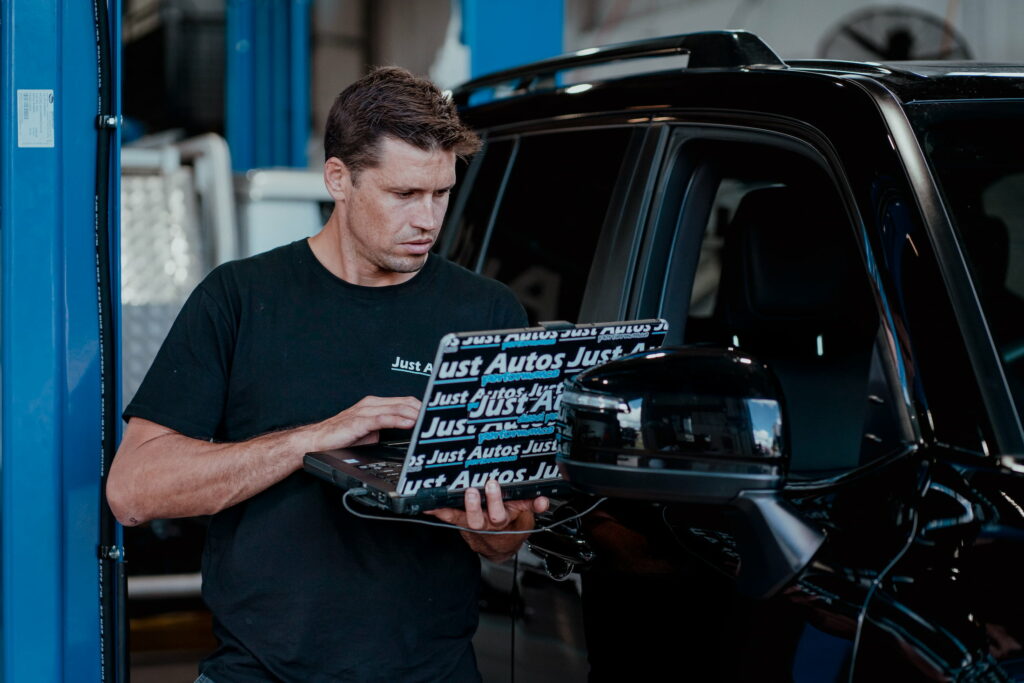 Queensland's Toyota Diesel Performance Experts
More Power, More Torque, More Engine!
Toyota's diesel engines have come a long way in recent years and the popularity of diesel performance is on the rise. These engines already offer impressive torque and power off the factory floor, but with some basic modifications, by professional diesel performance specialists, the results are astounding! The amount of extra performance you gain will depend on your specific model and when it was manufactured.
From custom ECU tuning and programming to hardware upgrades such as turbochargers, intercoolers, and exhaust systems, we have the perfect solutions to boost the performance of your Toyota. We also offer a wide range of other performance-enhancing modifications such as air intake systems, airbox upgrades and high-performance clutch systems.
Our services are tailored to meet the specific needs of your Toyota model and spec, ensuring that you get the perfect balance of power and reliability. Trust us to take your driving experience to the next level and make your Toyota truly stand out on the road.
Toyota Diesel Performance Tuning and Upgrades
Maximise Your Toyota's Performance
As Australia's premier common rail and turbodiesel Toyota diesel performance experts, vehicle owners across Queensland, interstate and even internationally, bring their high-performance Toyota vehicles exclusively to our workshop.
Our knowledge and experience in the trade makes us one of Queensland's most trusted diesel performance workshops. Our entire team, headed by Matt Smith, is committed to meeting the needs of our customers and providing the best service in the diesel performance tuning and the automotive mechanical industry. As a result, a high percentage of our local, interstate and international business is from repeat customers and referrals.
At Just Autos, our Toyota diesel performance tuners are trained, knowledgeable and experts at what they do. Our staff are happy to answer any questions and queries you have ensuring you get all the facts and information you need to make the best decisions for your diesel tuning needs.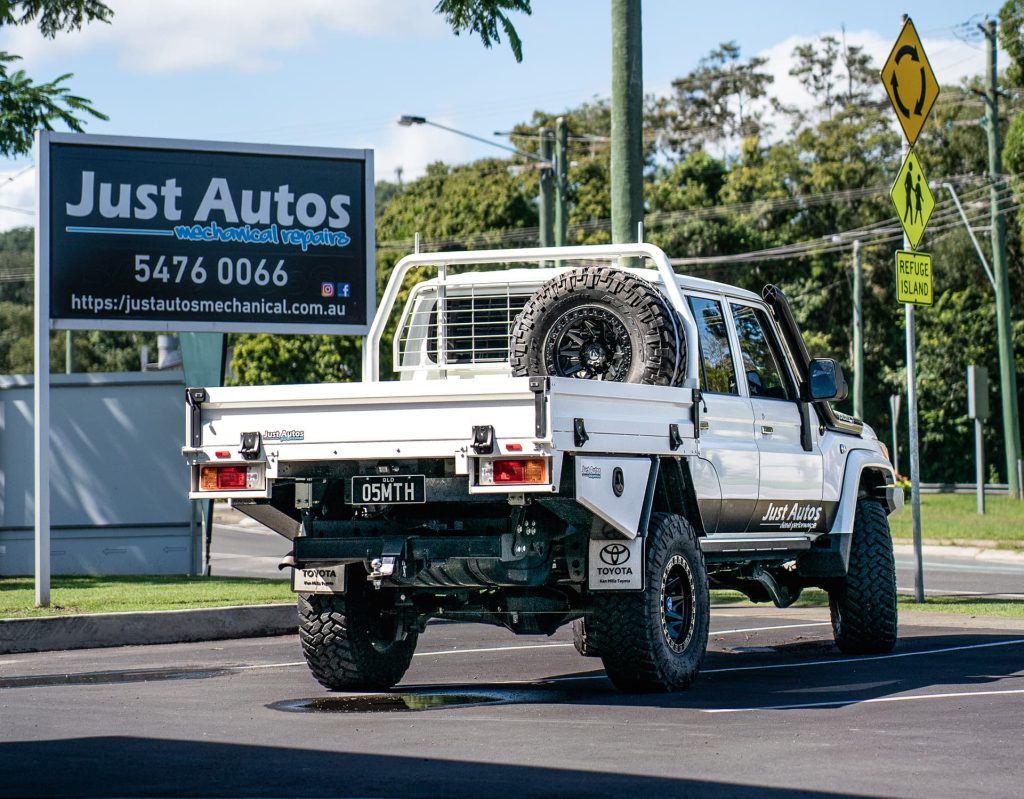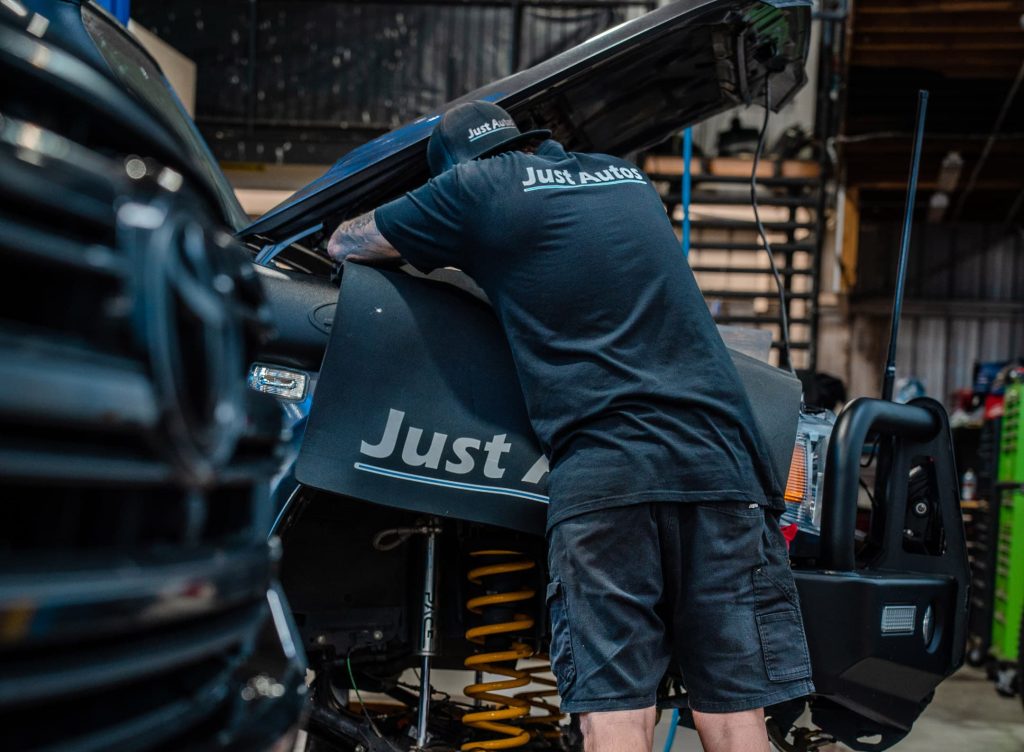 Our workshop is fully equipped with a range of high-tech tuning gear and equipment, including our dyno. Our team will work with you to assess the current state of your engine and your tuning options. We treat each vehicle that enters our workshop individually, giving each engine our undivided attention during the tuning process. Here's how it works:
Australia's Ultimate Diesel Performance Experts
Achieve More Power & Torque With Just Autos
Just Autos is a nationally-known brand renowned for our diesel performance expertise. No one cares more about your car's performance than we do! That's why our team works hard to ensure we understand your performance needs before getting stuck in under the hood of your Toyota to make those dreams a reality. 
Just Autos Diesel Performance is based in Nambour, on the Sunshine Coast in Queensland, Australia.
Toyota Diesel Performance Services
The 200 series Land Cruiser platform is one of Australia's most sought-after tow vehicles with high outputs in torque, high comfort, and a 6-speed automatic transmission.
We offer upgrades designed for touring and towing, which means improving the drivability and torque while improving efficiency as well. We also have upgrades for the die-hard performance enthusiast, with packages capable of making over 350hp at all 4 wheels and over 1000nm of torque. DPF options are available.
Anyone who owns a 70 Series Toyota Land Cruiser knows that the power output is something to be worked on – with only 145hp and 350nm at the wheels, it's no better than the majority of light vehicle 4wds on the market with smaller capacity engines.
At Just Autos, we can change that disappointing output figure into something capable of towing heavy loads without stressing the engine; with base packages producing over 200hp and 650nm at the wheels, we have every option covered for your 70 Series. DPF options are available.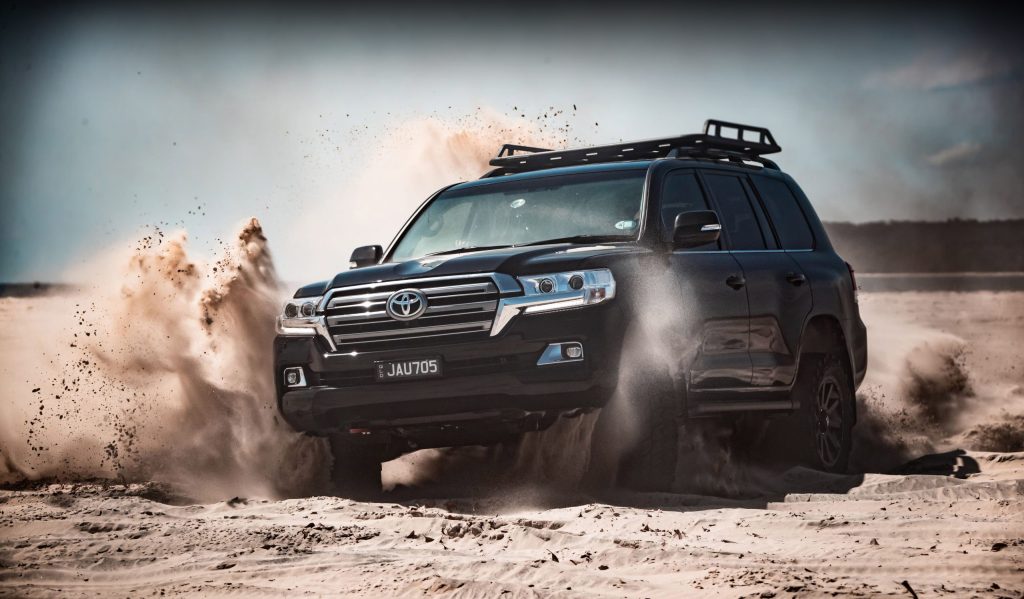 With over 15 years of experience and knowledge on the Toyota platform, we have multiple options for the 3.0 1KD and also the 2.8 1GD engine.
We have packages available for every person in mind, with a full touring setup to improve towing efficiency and torque, to a full package capable of making well into the 300hp range. DPF options are available.
ECU Remapping for Toyota Diesels
Just Autos have the master tuning hardware and software required to complete custom remaps of the factory ECU (Engine Control Unit) in your Toyota, specific to your model and spec. 
The Just Autos custom remap is performed via the ODB diagnostic port. This means that your ECU does not need to be removed or tampered with.
What Our Customers Have to Say
Just Autos Diesel Performance
Ramp Up Your Performance Today
Get More From Your Engine with Just Autos