200 series Upgrades (Pre DPF & DPF)
Upgrade your 200 Series Landcruiser now for Optimal Performance and Output!
200 series performance upgrades include custom ECU remapping, transmission ecu remapping, lockup converter kits, exhaust upgrades, turbo upgrades, airbox upgrades, intercooler upgrades and 30% injector upgrades. We can tailor the upgrade to your 200 series to produce the performance, drive experience, reliability for the purpose of your specific use of your vehicle. Our custom tune packages improve torque, power, efficiency and the economy of your vehicle but never at the expense of the drive experience and response of the vehicle.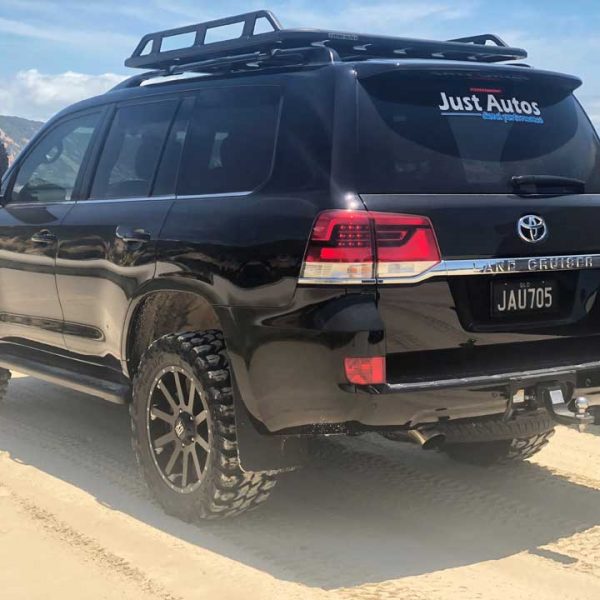 Package 1 (download the packages PDF here)
Package 1 is Just Autos base entry into upgrading & modifying your 200 series, with torque, power and efficiency being increased this base package is suited for someone looking at sticking to a budget while also still getting a very nice result.
Package 1 should usually see an increase on average of around 20% torque at all 4 wheels while still retaining upmost reliability
Package 2 (download the packages PDF here)
Package 2 has been structured by Just Autos for towing in mind, so if you're looking at touring Australia, going to the cape or just taking your caravan out with the family on the weekend this package is for you. With a torque convertor lock up kit, Just Autos twin 3'' to 4" exhaust & custom ECU remap these upgrades will help with a lot of issues that may arise while towing, excessive fuel consumption, drivability concerns, high gearbox temperatures, lack of power when needed, indecisive gearbox. With over 10 years of experience and knowledge your 200 series is in good hands as we prepare it to tow in every application. Optional extras for this package include intercooler upgrades, air box upgrades
Package 3 (download the packages PDF here)
Package 3 is based for the performance enthusiast in mind, but currently only available for the Pre DPF model 200 series. With power output figure over the 280hp & 850nm at all 4 wheels on average your 200 series will have no trouble tackling any situation you put it through. Optional extras for this package include intercooler upgrades, air box upgrades and turbo upgrades
If you have any queries regarding if your 200 may need extras for your application we would recommend ringing one of our highly qualified staff member to help guide you through what's best for your 200 series
ECU Remap
Ecu remap on the 200 series Landcruiser can achieve very noticeable gains just by itself but when coupled with one of our custom packages can improve, performance (Torque and HP), drive ability, efficiency and in some cases fuel economy.
Remap figures
650nm & 220hp at the wheels (on average based on Package 1)
Factory figures
450nm & 160hp at the wheels (on average based on a stock standard 200 series)
Lock up kits
The principle of this modification is to achieve more direct drive from the transmission. By locking the torque converter, we can prevent the constant hunting caused by locking and unlocking of the torque converter. It is important we still maintain the factory drive ability of the vehicle and this is why we choose to only lock the converter above 80km/h automatically. Below 70km/h the trans can tend to lug as it selects a taller gear and relies on the converter to slip. We have a secondary automatic low speed mode available to lock below this speed and when used in conjunction with the active select mode you can manually hold it down a gear and achieve engine breaking downhills.
Exhaust
The Just Autos Performance Exhaust for the VDJ200 Series Landcruiser wagon replaces the factory exhaust system with a high flowing, larger diameter, highly efficient exhaust, giving you more power and torque, more responsiveness, and a great sounding V8 note. High-flow, high efficiency catalytic converters are incorporated into the system without compromising performance. We have multiple options for exhausts depending on desired exhaust note.
Airbox
An aftermarket airbox assembly can not only achieve better airflow for the factory intake system which will improve efficiency when tuning but can also help with the well-known issue of dust getting past the factory airbox assembly into the intake system which can dust not only the turbos on the vehicle but the engine as well which can cost $$$ in repairs.
Upgraded Injectors
30% injectors can be custom built in house to achieve the fueling required when upgrading the vehicle to your desired outcome. Most models will require 30% injectors when upgrading the vehicle factory fitted turbo.
Upgraded turbos
Just Autos has a large range of factory bolt on upgraded turbos from G Turbo which are capable of increasing the vehicle factory torque and horsepower. This specification targets solid bottom and mid power, with the grunt that every big V8 should have. The upgraded assemblies have higher flow, high-efficiency compressor wheels, custom turbines, custom VNT systems and custom bearings for high boost.
Reviews